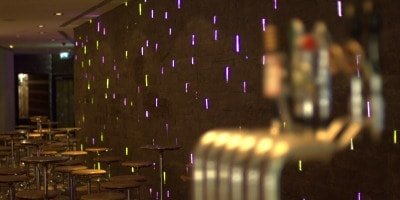 Fibre Optic End Emitting Cables
End emitting cable is made up of PMMA acrylic fibres which are protected by a flexible PVC jacket. It is ideal for use with star ceilings, cloths and carpets, end fittings and signage.
Visually Spectacular End Emitting Cables
The results are always visually spectacular when using this type of product, particularly when using colour changing light source such as a multi-coloured, programmable LED light engine.
Popular uses for fibre optic end emitting cable with end fittings include feature lighting, architectural lighting features and landscape fixtures. End emitting cable can also be used as an attractive alternative to neon signs, imaginative retail displays and highly captivating artwork installations.
At Fibre Optic FX Ltd, we supply custom made end emitting cable products for a diverse range of clients and applications, many of which are featured on the pages of this website. For more information on the stunning fibre optic products and the effects they can produce, please check out the images in the gallery below.
Single strand unjacketed fibres are also available in various sizes.
Products
Product Reference Numbers
Catalogue Number
Outside Diameter
Description
Type
FX 4J
4mm
4 x 0.75mm Fibres
Jacketed
FX 8J
5mm
8 x 0.75mm Fibres
Jacketed
FX 12J
5.2mm
12 x 0.75mm Fibres
Jacketed
FX 25J
8mm
25 x 0.75mm Fibres
Jacketed
FX 50J
9.4mm
50 x 0.75mm Fibres
Jacketed
FX 75J
10.5mm
75 x 0.75mm Fibres
Jacketed
FX 40/7/3J
14mm
40 x 0.75mm, 7 x 1mm
& 3 x 1.5mm Fibres
Jacketed
FX 500E
0.5mm
1 x 0.50mm Fibre
Single Strand
FX 750E
0.75mm
1 x 0.75mm Fibre
Single Strand
FX 1000E
1.0mm
1 x 1mm Fibre
Single Strand
FX 1500E
1.5mm
1 x 1.5mm Fibre
Single Strand
FX 2000E
2.0mm
1 x 2mm Fibre
Single Strand
FX 3000E
3.0mm
1 x 3mm Fibre
Single Strand
Examples