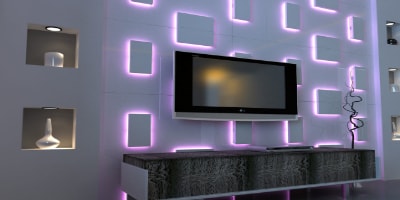 LED Lights for Home
Fibre Optic FX Ltd has been at the forefront of LED lighting for the past two decades, offering a wide range of bright and powerful, energy efficient white LED lights for the home. We also stock an exciting choice of RGB and RGBW coloured LED lights including colourful fairy and twinkling Christmas lights that look great the whole year round!
LED Ceiling Lights for the Home
Our most popular products are the LED ceiling lights and recessed wall lighting options that we offer. These provide cost effective, highly functional room lighting during the night, and can also be dimmed for early morning and evening use, whilst relaxing in front of the TV or when trying to create an atmospheric mood. In addition to our integrated LED lighting fixtures and fittings, we also stock a range of low cost, maintenance free replacement LED light bulbs that are suitable for home use. These can be used in your existing light fittings with no need for an additional DC power source.
Residential LED lighting products can be used to brighten up any part of the modern home, and as well as being significantly cheaper to run than most other types of lighting, they are also much more versatile. As well as providing a wide range of traditional lighting solutions such as our LED downlights and spot lights, we also offer a full selection of LED tape lights which can be cut down to size and placed around picture frames and cupboards. They can even be used to accent your furniture and appliances, and will look great behind the TV or some other feature such as a wall mounted mirror.
Bathroom
Bring a touch of elegance and sophistication into the bathroom with premium-quality LED lighting. Discreet, waterproof and energy-efficient lighting solutions to suit every bathroom.
Read More About Bathroom Lighting
Kitchen
The perfect combination of performance and practicality for the true heart of the home. Illuminate worktops and surfaces, highlight key features and create the ideal mood for every dining experience.
Read More About Kitchen Lighting
Bedroom
Elegant, inspired LED lighting to transform your bedroom into a true haven for relaxation. Simple yet effective lighting systems and solutions for bringing a new sense of comfort and enjoyment into the bedroom.
Read More About Bedroom Lighting
Living Room
Form and function in perfect balance for the home's central shared living space. Dynamic dimmable LED lighting systems for living rooms, guaranteed to set the perfect ambience and atmosphere for any occasion.
Read More About Living Room Lighting
Garage
Enhanced practicality, safety and aesthetic appeal for one of the most overlooked rooms of the home. Convert your existing garage into an appealing work space or fully functional interior living space with ease.
Read More About Garage Lighting
Conservatory
Maximise the charm and visual appeal of your conservatory with superior quality LED lighting. Enjoy your private and personal retreat from the outside world, creating the perfect mood for pure relaxation.
Read More About Conservatory Lighting
Swimming Pool
Practicality, prowess and pure performance in equal measures. Transform your pool into a visual work of art, using our innovative and reliable water-resistant LED lighting technology.
Read More About Swimming Pool Lighting
Stairs
The perfect combination of aesthetic appeal and enhanced safety for every type of staircase. Illuminate and decorate your stairs with our exclusive LED lighting solutions of guaranteed quality and value for money.
Read More About Stairs Lighting
Decking
Transform your garden into the year-round outdoor living space of your dreams with our bespoke decking illumination systems. Built to perform and guaranteed to go the distance, whatever the weather.
Read More About Decking Lighting
LED Room Lighting for the Entire Home
Our full product range includes everything from bright and functional LED ceiling lighting for the living room and kitchen area, through to the very latest, fully waterproof LED bathroom lights. We also stock appropriate LED room lights for the bedroom and for other parts of the house including LED conservatory lighting and LED garage lights. The available accessories that we offer include LED power supplies and driver units, and wall mounted DMX RGBW LED controller units.
Exterior LED Home Lighting Products
As well as catering for the inside of your home, Fibre Optic FX Ltd. also stocks a wide range of outdoor LED lighting products. This includes outdoor security lighting, weatherproof garden lighting and exterior LED garage and conservatory lighting solutions. For more information on any of our products, please contact the sales team.