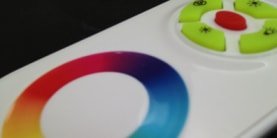 LED Controllers
If you want to get the best out of your LED lighting system, you will also need to invest in a suitable LED light controller product.
RGB LED Light Controllers
Here at Fibre Optic FX Ltd, we stock a superb choice of LED strip light controllers which are fully compatible with our wide range of LED lighting solutions ranging from the convenient and easy-to-use handheld, LED Wireless 'Jogger Wheel' controller unit, through to the FX-2PAD-C, LED wireless wall mounted pad and remote system and the highly advanced FX-DMX-WC wall plate controller.
Handheld LED Strip Controller
The FX-JW-C is the most popular RGB LED controller that we stock. Boasting a 20 metre operational range and 15 highly usable presets, this convenient RF controller unit is capable of controlling up to 200W of LED lighting and it is the ideal solution for taking full control over your LED tape lights and strip lighting products.
LED Wall Controller Systems
The FX-2PAD-C is a convenient, wireless wall mounted LED controller which also includes a handy RF remote. Offering 25 presets and capable of controlling up to 120W of LED light fittings, this entry level wall pad controller is the ideal choice for the more modest LED lighting system.
If you are looking for a DMX 512 compatible LED controller with a built in USB connector that can be controlled using the latest PC software then the FX-DMX-WC wall plate controller is the most appropriate solution for your needs.
This standard sized, 12v DC RGB and RGBW compatible wall mounted unit can control a full range of LED ceiling and wall lighting configurations and ships with a superb range of dimming and colour changing presets that will bring out the best in any modern, home-based LED lighting rig.
FX-JW-C

LED Wireless 'Jogger Wheel' Controller

Features

15 Preset Programs
Radio Frequency
Can control up to 200W
12v/24v DC
85mm x 64mm x 24mm
20mtr Range

FX-2PAD-C

LED Wireless '2 Pad' Controller

Features

Wireless wall mounted pad and remote
25 Preset Programs
Radio Frequency
Can control up to 120W
12v/24v DC
Wall Pad - 120mm x 75mm x 30mm
Remote Control - 85mm x 35mm x 15mm
20mtr Range

FX-DMX-WC

LED DMX Wall Plate Controller

Features

DMX 512 Compatible
Preset Programs included
Standard sized single switch plate
Add or edit programs via pc based software
Built in USB connector
Built in clock/scheduler
12v DC
95mm x 95mm x 10mm