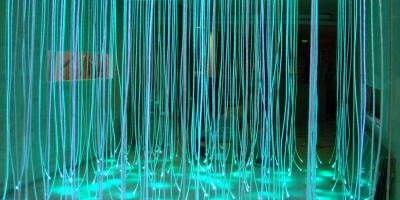 Side Emitting Cable
Side-Emitting cable is available in three forms - Multi-Strand, Solid Core and Cracked glass*. Suitable for both internal and external applications, side-emitting fibre optic cable is a true low maintenance alternative to using neon or chain light.
Durable Fibre Optic Lighting With Side Emitting Cables
When utilized for outdoor applications, side-emitting cable is safe for underwater use and it can even be used in ice and extreme weather conditions. The extremely durable PVC jacket that houses the cable is UV stabilised and it is also algaecide and fungicide treated.
With no heat or electricity running through it, fibre optic side emitting cable is totally safe and virtually unbreakable. This completely eliminates the design restrictions associated with most other types of lighting.
Common applications include retail counter displays, outdoor artwork installations, swimming pool lighting and vibrantly colourful chandelier type displays. For more information, please contact our sales team.
*Please note Cracked Glass is for internal use only
Products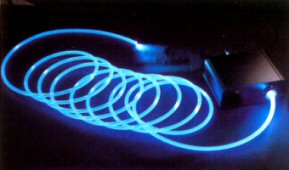 Side Emitting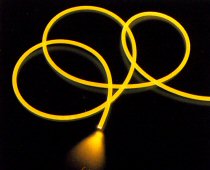 Side Emitting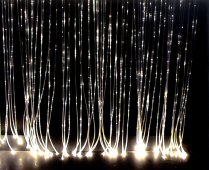 Side Emitting Cracked Glass
Product Reference Numbers
| Catalogue Number | Outside Diameter | Type |
| --- | --- | --- |
| FX 14S | 6mm | Multi-Strand |
| FX 42S | 9.53mm | Multi-Strand |
| FX 84S | 12.7mm | Multi-Strand |
| FX 126S | 15.88mm | Multi-Strand |
| FX 144S | 18mm | Multi-Strand |
| FX 60S | 8.6mm | Solid |
| FX 100S | 14mm | Solid |
| FX 120S | 17.7mm | Solid |
| FX CG | 2.2mm | Cracked Glass |
Examples