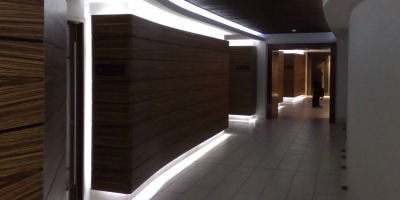 LED Strip Lights Kit
Our LED Ribbon flex is a modern approach to led strip lighting, it is much more versatile than the led strip light method as its both usable indoors and outdoors and easy to cut to a specific length.
LED Ribbon Flex
LED Ribbon Flex is a very low profile PCB set into a flexible silicone sleeve. These IP65 LED strip lights are available in two versions; the standard flexible LED strip light option and our super bright LED flexible strip lights. Both products are available in a wide range of vibrant colours, including red, blue and green strip lights, suitable for interior and outdoor use.
The external LED strip lighting option is completely waterproof and both the interior and outdoor versions of these stunningly attractive yet highly flexible, bright and powerful 12v LED strip lights are completely programmable with full DMX LED strip light functionality. You can also control them via a handy remote, depending on your requirements.
These colour changing LED ribbon lights can also be supplied with dimmers, which are particularly useful for home theatres or for use in living rooms and bedrooms.
Each 3m or 5m, 12 volt LED strip can be trimmed to size, is highly energy efficient and, with an average life expectancy of 50,000 hours, is virtually maintenance free.
One of the Best and Brightest, Cheap LED Strip Lights on the Market Today
In addition to our RGB colour options, we also offer white LED strip lights in the same flexible format. These are available in standard white and warm white configurations. This new range of self-adhesive strip lighting is also incredibly easy to install and can be fitted by anyone with limited DIY skills and with the minimum of effort.
A comprehensive range of power supplies and RGB controllers are also available. For more information on these highly versatile, 5050 LED strip lights, please visit the LED lighting section of this website.
Products
Product Variations
Catalogue Number
Available Colours
Length (Metre)
LED Quantity
LED Type (SMD)
VOLTAGE (DC)
IP RATING
Max. Power Consumption (Watts/Metre)
FX-DTM1-1220 & FX-DTM1-2420
Warm White (3000k)
5M
60
3528
12V OR 24V
IP20
4.7W
Natural White (4000k)
5M
60
3528
12V OR 24V
IP20
4.7W
Cool White (6000K)
5M
60
3528
12V OR 24V
IP20
4.7W
RGB
5M
30
5060
12V OR 24V
IP20
7.2W
FX-DTM1-1265 & FX-DTM1-2465
Warm White (3000k)
5M
60
3528
12V OR 24V
IP65
4.7W
Natural White (4000k)
5M
60
3528
12V OR 24V
IP65
4.7W
Cool White (6000K)
5M
60
3528
12V OR 24V
IP65
4.7W
Blue
5M
60
3528
12V OR 24V
IP65
4.7W
Green
5M
60
3528
12V OR 24V
IP65
4.7W
Red
5M
60
3528
12V OR 24V
IP65
4.7W
Yellow
5M
60
3528
12V OR 24V
IP65
4.7W
Amber
5M
60
3528
12V OR 24V
IP65
4.7W
RGB
5M
30
5050
12V OR 24V
IP65
7.2W
FX-DTM1-1268 & FX-DTM1-2648
Warm White (3000k)
5M
60
3528
12V OR 24V
IP68
4.7W
Natural White (4000k)
5M
60
3528
12V OR 24V
IP68
4.7W
Cool White (6000K)
5M
60
3528
12V OR 24V
IP68
4.7W
RGB
5M
30
5050
12V OR 24V
IP68
7.2W
FX-DTM2-1220 & FX-DTM2-2420
Warm White (3000k)
5M
60
5050
12V OR 24V
IP20
14.14W
Natural White (4000k)
5M
60
5050
12V OR 24V
IP20
14.14W
Cool White (6000K)
5M
60
5050
12V OR 24V
IP20
14.14W
RGB
5M
60
5050
12V OR 24V
IP20
14.14W
FX-DTM2-1265 & FX-DTM2-2465
Warm White (3000k)
5M
60
5050
12V OR 24V
IP65
14.14W
Natural White (4000k)
5M
60
5050
12V OR 24V
IP65
14.14W
Cool White (6000K)
5M
60
5050
12V OR 24V
IP65
14.14W
Blue
5M
60
5050
12V OR 24V
IP65
14.14W
Green
5M
60
5050
12V OR 24V
IP65
14.14W
Red
5M
60
5050
12V OR 24V
IP65
14.14W
Yellow
5M
60
5050
12V OR 24V
IP65
14.14W
Amber
5M
60
5050
12V OR 24V
IP65
14.14W
RGB
5M
60
5060
12V OR 24V
IP65
14.14W
RGBW
5M
60
5050
12V OR 24V
IP65
18W
RGBWW
5M
60
5050
12V OR 24V
IP65
18W
FX-DTM2-1268 & FX-DTM2-2468
Warm White (3000k)
5M
60
5050
12V OR 24V
IP68
14.14W
Natural White (4000k)
5M
60
5050
12V OR 24V
IP68
14.14W
Cool White (6000K)
5M
60
5050
12V OR 24V
IP68
14.14W
RGB
5M
60
5060
12V OR 24V
IP68
14.14W
FX-DTM3-1220 &FX-DTM3-2420
Warm White (3000k)
5M
120
3014
12V OR 24V
IP20
14.14W
Natural White (4000k)
5M
120
3014
12V OR 24V
IP20
14.14W
Cool White (6000K)
5M
120
3014
12V OR 24V
IP20
14.14W
FX-DTM3-1265 & FX-DTM3-2465
Warm White (3000k)
5M
120
3014
12V OR 24V
IP65
14.14W
Natural White (4000k)
5M
120
3014
12V OR 24V
IP65
14.14W
Cool White (6000K)
5M
120
3014
12V OR 24V
IP65
14.14W
FX-DTM4-1220 & FX-DTM4-2420
Warm White (3000k)
5M
204
3014
12V OR 24V
IP20
24.5W
Natural White (4000k)
5M
204
3014
12V OR 24V
IP20
24.5W
Cool White (6000K)
5M
204
3014
12V OR 24V
IP20
24.5W
Examples