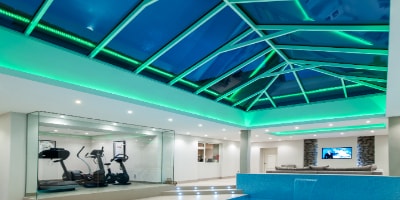 Conservatory LED Lighting
More and more people are switching to LED lights as a means of showing off their conservatories to the full whilst simultaneously cutting down on their electricity bills. Although LEDs are slightly more expensive than conventional CFL bulbs, they are much cheaper to run and they are also significantly longer lasting. In fact, our LED conservatory lighting is so efficient that it will start to pay for itself after just a few months of usage.
A Full Range of LED Conservatory Lights
Here at Fibre Optic FX Ltd, we stock a wide range of LED conservatory lighting products ranging from multi-coloured, RGB and RGBW LED tape lights, which can be programmed to change colour, through to bright LED downlights and spotlights, recessed wall lights and an elegant range of LED table lamps. All of these products are designed to save you money over an extended time and they also look stunning when switched on.
As well as offering a range of lighting solutions for the inside of the conservatory, we also stock a superb choice of exterior lighting products which are completely weatherproof and the ideal option for illuminating garden decking and path ways, outside walls and for accenting your conservatory roof and the rest of your property.