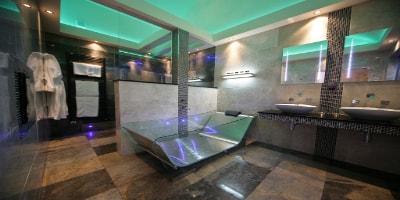 LED Bathroom Lights
Here at Fibre Optic FX Ltd, we have a huge range of bathroom lighting solutions available for purchase including LED shower lights, bathroom downlights and recessed wall lighting options that will help bring any modern bathroom to life. Our LED wall and ceiling lights provide an excellent level of bright and powerful lighting that is cheap to run, completely waterproof and the perfect alternative to traditional bulbs and tube lighting solutions.
Waterproof LED Lighting for the Bathroom
IP65 LED bathroom lighting is fully compliant with the latest safety standards and is completely resistant to heat and humidity. Popular LED lighting options for the contemporary bathroom or shower area include both white and blue spot lights, dimmable LED ceiling lights and the very latest in LED tape lighting. Our LED strip lights are the ideal choice you are looking to accent certain features in your bathroom such as the bathroom mirror.
Decorative Bathroom Lights
If you are looking for a product that will really show off the bathroom whilst creating a subtle and relaxing mood then why not go for our coloured range of LED lights. These will help create a colourfully vibrant, constantly changing ambience that will certainly make your bathroom a central talking point whenever visitors and guests turn up. We also stock a contemporary selection of fibre optic star light ceiling kits that will help to complement your interior design scheme even further.
Whether you are looking for a surface mounted LED bathroom lighting solution with a dedicated power supply or you simply want to invest in a cost effective replacement for your existing bulbs, we offer a full range of products that will accommodate your needs and personal preferences flawlessly. Our super low energy LED bathroom lights are low maintenance and will provide years of service whilst also reducing your electricity bill.