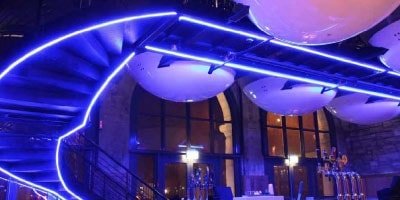 LED Neon Tubes
Neon LED Tube is an extremely flexible, safe and maintenance free alternative to using neon and cold cathode.
Neonled Tube Ultra-Bright Light Alternative
Lines of ultra-bright LEDs are set into a unique flexible opaque resin, giving it a consistent linear LED lighting effect similar to that of neon. Operating at 24v or 240V and suitable for indoor or outdoor applications, this new product saves up to 70% on the running costs of traditional gas filled neon tube lighting.
Led Neon Flex - 24v Led Strip Lights from Fibre Optic FX Ltd
Neon LED tube conveniently comes on coils and can easily be transported then cut and joined as required directly on site. Installation of this flexible and highly economical 24 volt led strip light product is incredibly straightforward and can easily be achieved with minimal DIY knowledge.
Our LED Neon Flex lighting tubes are suitable for a diverse range of decorative purposes, including interior window displays and vibrantly illuminated outdoor signs for retail outlets which are popular for advertising bars and hotels. They also look great in the home or garden and they are completely weatherproof.
24v Led Strip Lighting Accessories
A comprehensive range of LED power supplies and other useful accessories are also available for this lighting system product including connectors, channelling and end caps.
Products
Product Variations
| Catalogue Number | Available Colours | Length (Metre) | LED Quantity (Per Metre) | LED Type (SMD) | Voltage (DC) | IP Rating | Max. Power Consumption (watts/Metre) |
| --- | --- | --- | --- | --- | --- | --- | --- |
| FX-DTM10-2468-WW-ROUND | Warm White (3000K) | 20M | 60 | 5050 | 24V | IP68 | 12W |
| FX-DTM10-2468-NW-ROUND | Natural White (4500K) | 20M | 60 | 5050 | 24V | IP68 | 12W |
| FX-DTM10-2468-CW-ROUND | Cool White (6000K) | 20M | 60 | 5050 | 24V | IP68 | 12W |
| FX-DTM10-2468-B-ROUND | Blue | 20M | 60 | 5050 | 24V | IP68 | 12W |
| FX-DTM10-2468-G-ROUND | Green | 20M | 60 | 5050 | 24V | IP68 | 12W |
| FX-DTM10-2468-R-ROUND | Red | o | 60 | 5050 | 24V | IP68 | 12W |
| FX-DTM10-2468-A-ROUND | Amber | 20M | 60 | 5050 | 24V | IP68 | 12W |
| FX-DTM10-2468-RGB-ROUND | RGB | 20M | 60 | 5050 | 24V | IP68 | 12W |
| FX-DTM10-2468-WW-FLAT | Warm White (3000K) | 20M | 60 | 5050 | 24V | IP68 | 12W |
| FX-DTM10-2468-NW-FLAT | Natural White (4500K) | 20M | 60 | 5050 | 24V | IP68 | 12W |
| FX-DTM10-2468-CW-FLAT | Cool White (6000K) | 20M | 60 | 5050 | 24V | IP68 | 12W |
| FX-DTM10-2468-B-FLAT | Blue | 20M | 60 | 5050 | 24V | IP68 | 12W |
| FX-DTM10-2468-G-FLAT | Green | 20M | 60 | 5050 | 24V | IP68 | 12W |
| FX-DTM10-2468-R-FLAT | Red | 20M | 60 | 5050 | 24V | IP68 | 12W |
| FX-DTM10-2468-A-FLAT | Amber | 20M | 60 | 5050 | 24V | IP68 | 12W |
| FX-DTM10-2468-RGB-FLAT | RGB | 20M | 60 | 5050 | 24V | IP68 | 12W |
* 240V VERSION IS ALSO AVAILABLE UPON REQUEST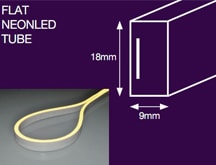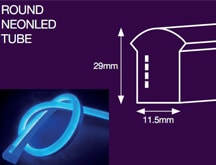 Examples