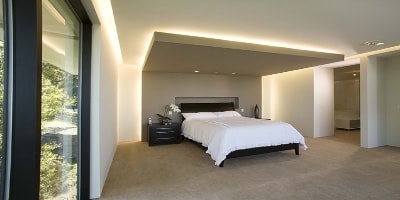 LED Bedroom Lights
The bedroom is one of the most lived in personal parts of your home. It is a place where you can relax and unwind, listen to music, watch a movie or read a book in complete privacy at the end of a hectic day. If you want to create a truly comfortable environment in your bedroom, where you can forget all your troubles and keep the rest of the world at bay, then why not invest in an affordable LED bedroom lighting setup that will provide an added dimension of personality to your house or apartment?
Clean & Bright LED Ceiling Lights
Our extensive collection of LED lights for the bedroom includes an incredible array of ideas, encompassing clean and bright LED ceiling lights with or without dimmers, modern recessed bedroom wall lighting options, white and blue LED lamps and additional coloured mood lighting products. This also includes more contemporary lighting solutions, such as our LED tape lights for the bedroom which can be supplied with full remote control functionality.
Dimmable LED Spotlights & Downlights for the Bedroom Ceiling
Our dimmable LED bedroom ceiling lights are powerful when you need them to be, so that you can read a book, get dressed or apply your makeup whilst getting ready to go out, yet they can also be turned down for a more subtle effect, enabling you to watch TV or fall asleep gently without any of the glare associated with traditional bulbs and conventional lighting products.
In addition to our cool white, warm white and blue LED lights for the bedroom, which are designed for everyday use and traditional functionality, we also stock a range of LED strip lights that are ideal for illuminating the edges of the wardrobe or highlighting your bedroom drawer units and cabinets. These multi-coloured, mini LED RGB tape lights also look superb when used to accent interior design features such as wall mounted mirrors and picture frames.
An Entire Catalogue of LED Bedroom Lighting Options
By combining these various LED bedroom lighting products and ideas together, you can create a visually stunning, warm and inviting, completely personalized living space that is uniquely your own and which caters to your personal needs and preferences without exception.
As well as supplying a complete range of bedroom LED ceiling lights, dimmable wall lights and table lamps, we also stock energy efficient LED replacement bulbs which can be used in your existing bedroom light fixtures, fittings and sockets. Simply take out your old, energy inefficient bulbs and replace directly with the new ones.
These brand new, low-costing LED bedroom lights will reduce your electricity usage by a considerable amount and, although they may be a little more expensive in the short-term, the fact that they can be used for 50,000 hours or more without ever needing to be replaced means that they will save you a significant amount of time and money by eliminating the need of frequent replacement.
If you really want to push the boat out, then you can always opt for one of our Fibre Optic, DIY Star Ceiling Kits. These use Fibre Optic end emitting cable and a large section of black fabric cloth in order to create a shimmering and twinkling, bedroom ceiling light display. Our star ceiling kits for the bedroom are powered by an LED light engine, which can easily be programmed or controlled via remote.